It has been almost two years since Convert Plus has been ruling hearts and minds by increasing conversion rates for several websites across the world.
The ease of use and an easy to go price made it a reasonable and preferable choice for business owners and marketers too. We did not stop here!
We came across suggestions and ideas from top marketers. We gathered them together, streamlined their implementation and came up with an all new WordPress popup plugin. There are several things that we focused on to make a better plugin with advanced design freedom, advanced conversion techniques, mailer integrations and more.
Since we focused on professional requirements, we named this Convert Pro!
Let us dive in to see what are the few main differences between the two versions.
The Main Highlight … A Drag and Drop Customizer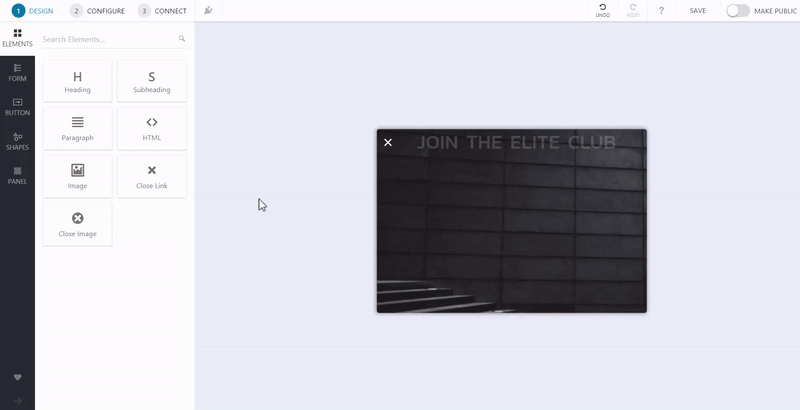 For all those who wanted a simpler editor than the point and click customizer with fixed layouts, Convert Pro comes with a drag and drop customizer that gives you complete freedom of creativity and lots of options to create beautiful looking popups.
The Most Wanted …
1] Two Buttons on a Popup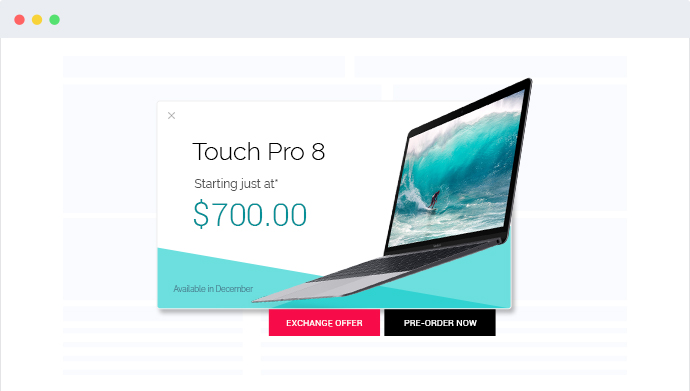 We were approached by many marketers who wanted to place two or more buttons on a single popup or opt-in form. This is not possible in Convert Plus. But, we made this possible and easy to use in Convert Pro. You can now barge ahead and create yes-no popups, age verification popups and more.
2] Multistep Opt-in Forms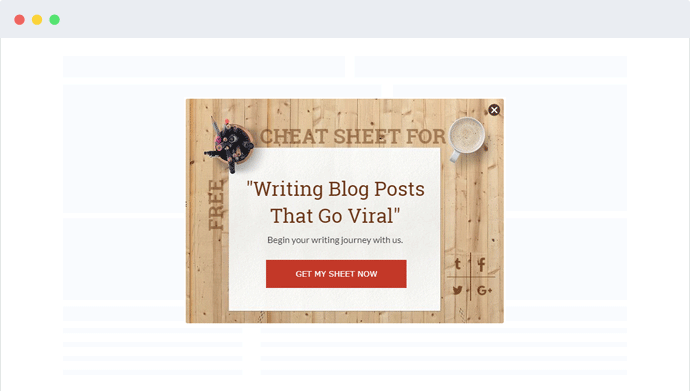 Multistep opt-in forms or interactive forms play an important role in engaging your audience and keeping them a little longer. With Convert Pro, we give you an opportunity to create several opt-in forms that can appear one after another.
3] Multiple Form Fields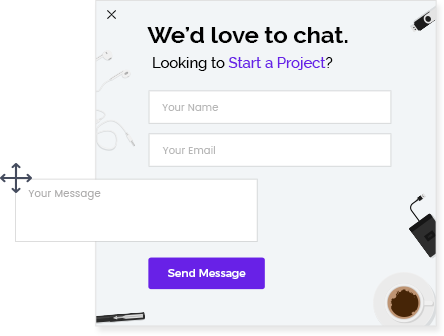 Unlike Convert Plus, that comes with a few form fields and checkboxes, Convert Pro gives you radio buttons too. You can now create a questionnaire or a quiz like popup that engages your audience rather than a simple opt-in form.
4] Advanced A/B Testing
Convert Plus allowed you to A/B test between the variants of the same module. Which means you had to create a variant of a modal popup and compare the two. Same was the case with infobars and slide popups too. But, Convert Pro gives you the freedom to A/B test any design with any other design that you've created. You can now compare a modal popup with an infobar, a slide-in popup or any random design that you have.
5] Advanced Mailer Integrations
As you all know, Convert Plus integrates seamlessly with 28+ major email marketing service providers. Convert Pro does that too! But, in a little different and advanced way.
Convert Plus allowed you to integrate with lists in all these mailers. Convert Pro takes you a step forward and makes it easier to integrate with list segments and tags within the mailer. I am sure this is what most of you were looking for! You can now integrate Convert Plus with the same list and sort subscribers using tags and segments within it.
6] Mobile View Editing
The great news is that all the designs in Convert Plus and Convert Pro are 100% responsive! This means that the designs shrink to look great on smaller screens too!
However, a few users contacted us saying that they wanted to control how a design would look on mobile devices. So, here we are! We implemented that in Convert Pro and made it possible for people to edit a few things in mobile view so as to control how their popup will look on a mobile device.
7] Advanced Targeting with Rulesets
Convert Plus has a number of triggers and filters that allow you to target the right audience at the right time. This is useful when you want to have a specific time that you wish to show a popup or a message. However, what if you want to combine triggers and filters to create a customized pattern to track user behavior and display a message. Let us say you want to display a message when a user is about to leave a page – but only after he has spent around 60 seconds on the page, you can do that! Convert Pro has a feature called rulesets that allows you to add advanced targeting options that allow you to create better messages at the right time. You can read our knowledge base article to know how rulesets work in Convert Pro.
8] Analytics and Performance Tracking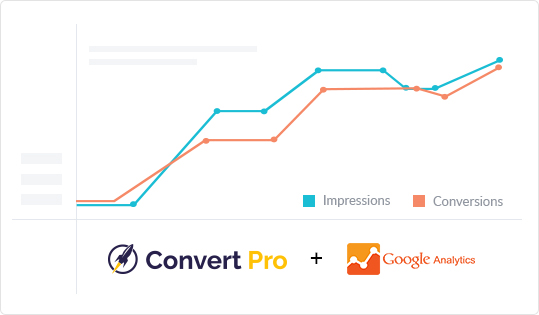 Google Analytics is the most trusted tool marketers use for tracking their website performance. Convert Plus comes with an inbuilt analytics. Integration with Google Analytics was possible only with some custom coding. However, we've worked on making this easier.
While focusing on major market demands, we made it easier to integrate Convert Pro with Google Analytics. All you tracking details are seamlessly passed into your analytics account. While you can also pull in your analytics data that will be displayed in your WordPress backend. You can refer to this article to know more.
9] Conversion Techniques
If you think from a marketers point of view, there are a lot of things that affect conversion. This includes the color combination, the text, the font style and size, the main message, the images and a lot more. With the freedom to re-create and design everything, Convert Pro gives you the chance to select a color that will convert, an image, form fields of your choice, placement, size and style of text, etc without thinking twice.
Having this partnered with advanced triggers to display the right message at the right time and filters that identify users by the source they come from or device they are using, you are sure enough to boost conversions like never before!
10] Speed and Performance
Built with a modular structure, Convert Pro is determined to perform better and faster than Convert Plus. With additional addons that can be installed and used only if required, Convert Pro gives users a chance to make it even more lighter.
What about the other features?
Convert Pro has inherited features like cookie tracking, triggers, filters and more and owns them in the most advanced form too! As mentioned earlier, Convert Pro is born with an idea to fill in the gaps and improvise on the features that weren't available with Convert Plus.
Which one is made for me? Convert Plus or Convert Pro…
Both, Convert Plus and Convert Pro are built with lead generation and conversion in mind. But, they can be differentiated with the above features.
If you are a single site or a business owner who needs:
a plugin on a single site with a lifetime usage
a plugin with a point and click live editor
a plugin that has loads of templates to choose from
a plugin that has fixed layout forms that can be modified easily by editing text and images
a plugin that has an inbuilt analytics that shows you the performance of all your popups
a plugin that integrates with simple lists in third-party mailers
If you are a marketing professional or a developer looking who is looking for:
a plugin that can be used on multiple client websites
a plugin with a drag and drop live editor
a plugin that gives you complete design freedom and with advanced conversion techniques
a plugin that lets you integrate with Google Analytics to track conversions with the performance of the entire website
a plugin that integrates with mailers and allows you to integrate with tags and segments within lists
a plugin that allows you to A/B test a design with any other design in a campaign
a plugin that allows you to create multi-step forms with multiple buttons and fields on each
Wrapping it up
While having specified the differences above, Convert Plus and Convert Pro are both lead generation plugins that are built to increase sales and conversions. However, their different features and level of advancement decide the audiences it is suitable for. Have some more questions?
Find them answered in the questionnaire below, or please feel free to write to us.
How can I upgrade from Convert Plus to Convert Pro?
Convert Plus and Convert Pro are two different plugins. Therefore, you will need to purchase a licensed copy of Convert Pro and install it on your website.
Are there any offers for Convert Plus users?
Yes, we have a special discount for those who own a licensed version of Convert Plus! Its 25% OFF for you!
Can the Convert Plus designs be used in Convert Pro?
No! These are two different plugins. Therefore, you cannot use their designs with the other.
I hope this answers all! If still have questions or looking out for suggestions, you can add them in the comments below or write to us directly.