Third party sync allows you to synchronize your local campaign users to your third party mailer list. By default, it synchronizes only the EMAIL field.
If you want to synchronize other fields, you need to keep same FIELD NAME in your form & third party mailers.
---
# Steps to synchronize custom fields from Constant Contact

Constant Contact allows you to create Custom Fields while adding a new contact.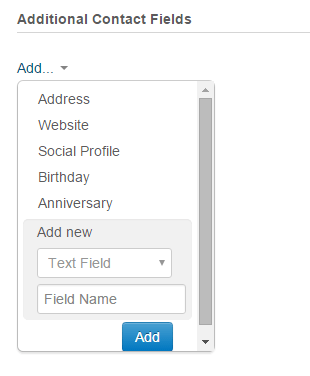 It is mandatory to match the Field Name to Convert Plus Form Tag Name.
They could be as follows:

| Sr. No. | Field Name | Field Tag (To be added to Convert PlusForm) |
| --- | --- | --- |
| 1. | Job Title | JobTitle |
| 2. | First Name | FirstName |
| 3. | Last Name | LastName |
There are some inbuilt custom fields you can use in Constant Contact like cell_phone, company_name, created_date, email_addresses, first_name, fax, home_phone, job_title, etc. You will have to use the same field names in Convert Plus too.
In case you wish to add some more fields apart from the inbuilt ones, Constant Contact allows you to add 15 more. But, their names should be custom_field_1, custom_field_2, custom_field_3, custom_field_4, custom_field_5, custom_field_6 and so on. Again, these field names should be the same in Constant Contact and Convert Plus.
For more information about Constant Contact's custom fields, check here.