Wish you all a very Happy New Year!
Before we end with the first month of this year, we present to you the most awaited version 2.3.2 of ConvertPlus. With features like subscriber notifications for a default campaign, displaying dynamic values in social share styles for networks like Facebook, Google, LinkedIn, Pinterest, Reddit and StumbleUpon, font option for Close text, and more, ConvertPlus version 2.3.2 is a powerful package and a successor of the version 2.3.1.
Here are a few highlights of ConvertPlus version 2.3.2
– New: Subscriber email notification for Default campaign
– New: Dynamic share count for Social Media Styles
– New: Font family option for close text
– New: Two or more slide Ins open on the same page if one of them is floating social media style
– Improvement: Cookie functionality for variant styles
– Improvement: Fallback to wp_get_attachment_image_url function
– Improvement: Referral detection functionality
– Improvement: Hide on devices option for mobile
– Fixed: Conflict with FlatSome theme
– Fixed: Function name Conflict with dynamic X Theme
– Fixed: CSS conflict for placeholder with Imprezia theme
– Fixed: Style Import/Export issue with SMTP Postman plugin
– Fixed: Conflict with WP All import plugin
– Fixed: Tool-tip conflict with Optimizely plugin
– Fixed: Scrollbar error for Slide In
– Fixed: Pinterest JS issue
– Fixed: Modal elements overlapping other elements even after closing
– Fixed: YouTube style border appearing issue
– Fixed: Border property not working for variant style in customizer
– Fixed: After Form Submission error for "Do nothing" option
Email Notifications to Administrator
This is the most awaited feature that many users requested for. Webmasters wished to get a notification when a new subscriber is added into the default campaign. You can now enable this feature and enter an email ID you wish to get these notifications on.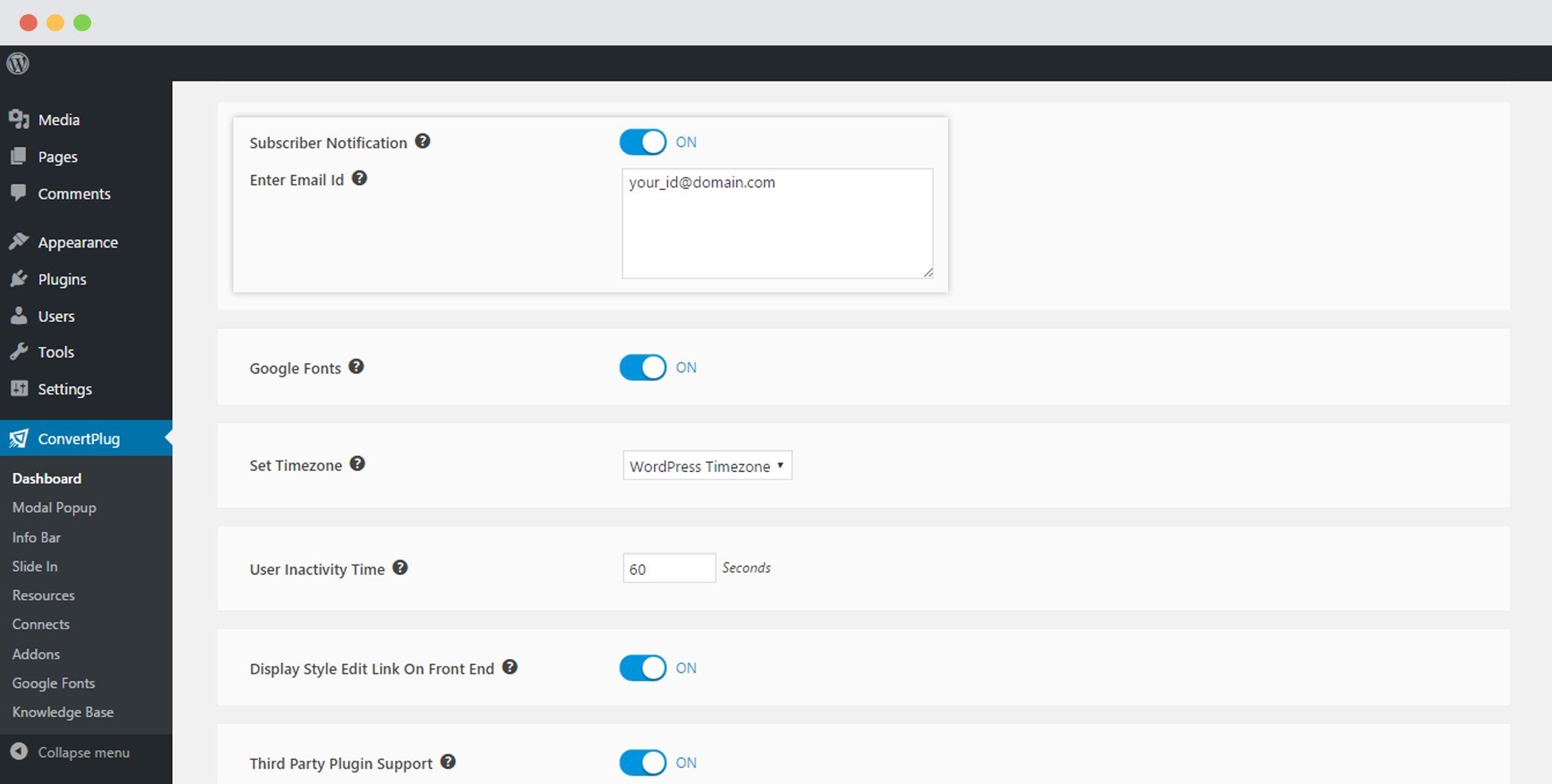 Dynamic Share Count for Social Media styles
Unlike before, all the Social Media styles of ConvertPlus will now accept dynamic social share values. This will help you display the actual social shares of a particular page or content.
Font Styling option for Close text
We all know that we could display the close link as a piece of text or an image. In case of an image, you are free to upload and use any image. But, in case of text, it wasn't possible to change the font style. In version 2.3.2, we have introduced a font style option to help you style your close links too.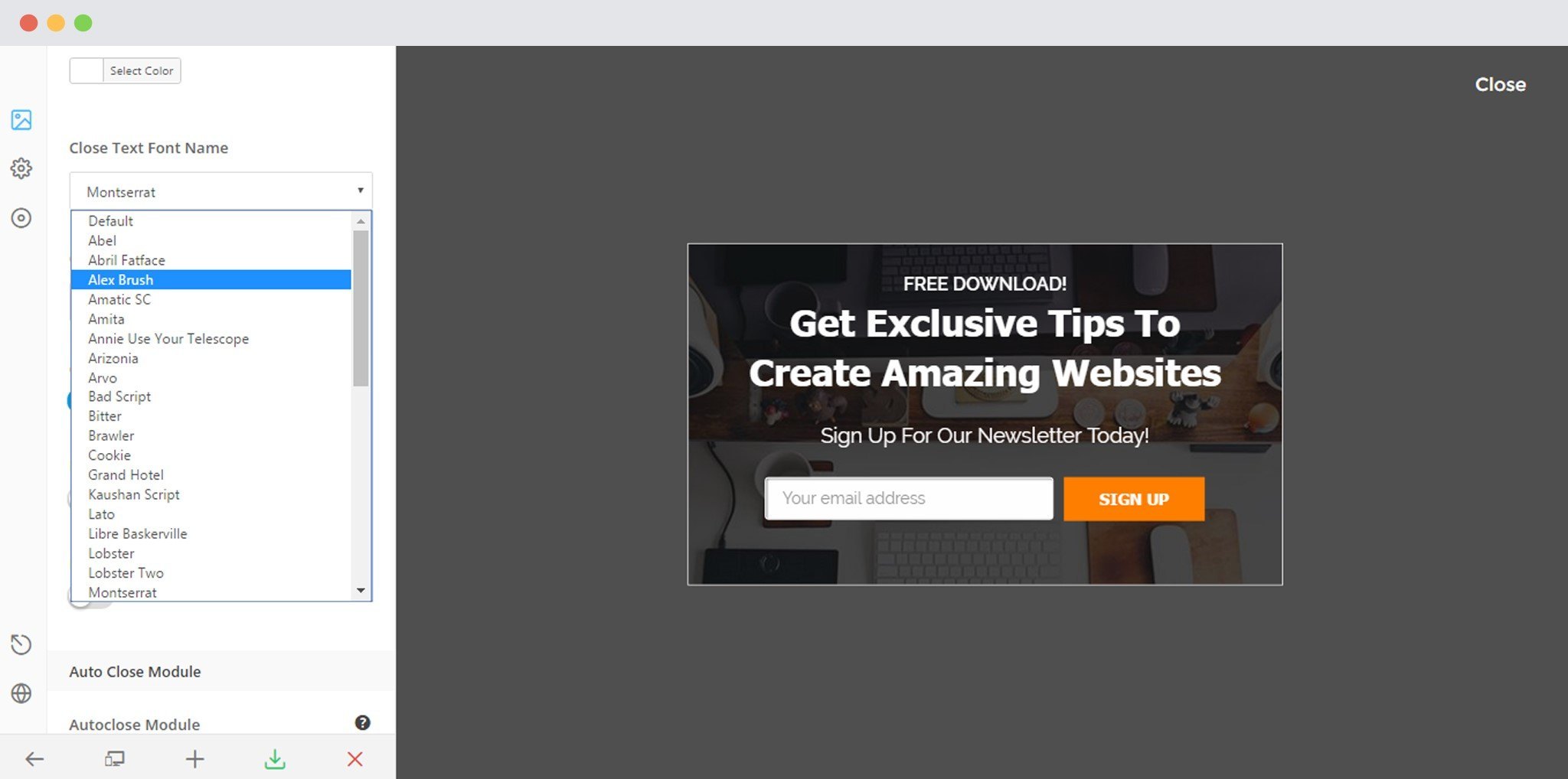 Floating Social bar and Slide Open together
Many users had reached out saying they would like to have two slide-ins open at the same time. One would be a social share slide in and another with any other purpose. In version 2.3.2, we made this possible. Yes, now you can use two slide-ins together. Provided one is a social style and the other is a normal slide-in.
Along with the new features ConvertPlus version 2.3.2 comes with some fixes for a few features that didn't work as expected and a few conflicts with external themes and plugins. Therefore, this version is truly the most awaited one because it covers most of the features that people had requested and solves conflicts and errors that users had reported.
---
Message from the Team
We take this opportunity to wish you all a very Happy and prosperous New Year! With this New Year, we present to you an all new version of ConvertPlus.
What will be more helpful than fulfilling your demands? Yes, in this update, we focused on delivering what you long to see. You can now get email notifications, use the social share slide-in and another one together, style your close links and easily use ConvertPlus with your favorite theme or plugin without a conflict.
We have made sure that everything works as expected, letting you make the most of your marketing spend.
The new version is now available and you can go ahead and give it a try. We would love to hear your thoughts in the comments below.